Mount Olive Baptist Church - Cleveland, OH
This project received the Stained Glass Association of America Award of Excellence.
We were commissioned by the Church to design and fabricate eleven new windows complete with frames and ventilators; two main windows, two balcony windows and seven sanctuary windows.
Iconography: The two main windows are "Mount of Olives" and "Calvary". "Mount of Olives" symbolizes the path Christ walked along the Mount of Olives toward Jerusalem. "Calvary" window depicts Christ's cross (center) with two flanking crosses. There are twelve rays emanating from the cross to represent Christ's message being" taken to all people by the twelve apostles. The seven sanctuary windows each contain the cross. Lines in the epoxy are meant to resemble flames, and signify the flames of Pentacost and presence of the Holy Spirit.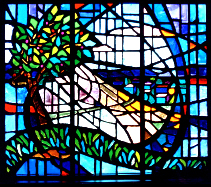 The balcony windows are "Communion" and "Baptism". "Communion" is symbolized through wheat (bread) and grapes (wine) and is one of a pair of windows. "Baptism" depicts a scallop shell dripping water into a pool below; John the Baptist is traditionally portrayed as using a scallop shell to pour the water from the River Jordan over Christ's head.