First Presbyterian Church – North East, PA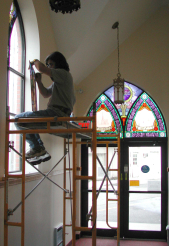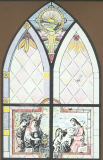 Whiteney Stained Glass was commissioned by the Church to design and fabricate four new windows for above the doors in the new entrance. The architectural style of the new entrance matched that of the existing Church built in 1885 and the new windows we designed matched the style of the existing windows (c.1880s). The subjects included a history of the four Church buildings from 1805 to the present, which were hand painted on the glass, then kiln fired to permanently fuse the paint to the glass. We used borders and tracery glass that related to the original stained glass in the church. The two larger windows we designed to depict Christ and the Children, and Christ in the Temple. These were also hand painted and fabricated with similar decorative borders and tracery.
Testimony: "The windows are terrific – please extend our thanks to everyone, especially Jim for such a fine job. Everyone is thrilled and amazed by the details in all of the windows, and the church etchings couldn't have been more perfect! Thanks again for such great care to us and our windows."